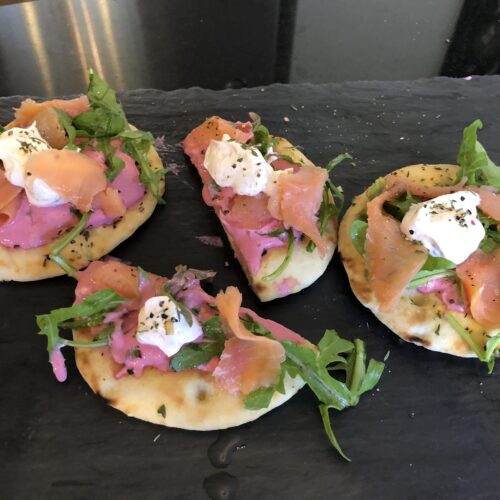 Smoky Salmon and Beet Crema' Flatbread with Arugula
Great for brunch, lunch, or dinner!
Ingredients
12

oz

small to medium roasted beets, skins removed

You can purchase already roasted beets at the store to save time

5

tbsp

olive oil, divided, plus 2 teasppons

4

whole-grain flatbreads like naan

1-1/3

cups

sour cream, divided

2

tsp

lemon zest

3

tbsp

lemon juice, divided

1

tsp

Black Dog Belly Rub, to shake on naan

1

tsp

Jammin' Salmon Rub

4

c

packed arugula

8

oz

smoked salmon, torn into slivers
Instructions
Place flatbreads on a cookie sheet and brush both sides with 1 tbsp of the olive oil. Shake 1/4 teaspoon of Black Dog Belly Rub on each. Bake until slightly crispy around the edges, about 10 minutes.

Combine beets, 3/4 cups of the sour cream, 2 tablespoons olive oil, lemon zest, and 1-1/2 tablespoons of lemon juice in a blender or food processor; process until smooth.

Toss arugula with remaining 2 tablespoons of olive oil, 1-1/2 tablespoons lemon juice, and a 1/4 teaspoon Black dog Belly Rub in a medium bowl.

Spread the beet mixture on flatbreads and divide the arugula and smoked salmon among them.

Mix the remaining sour cream with 1 teaspoon of Jammin' Salmon Rub and place a dollop on top of each flatbread.