All About Mom's Gourmet, Your Family Spice and Seasoning Company
Meet Mom
A.K.A Patsy Flattery. She's got what every great gourmet's got: bunches of creativity mixed with a dash of "I can do it better."
So it's no wonder that when Patsy was raising four children on a modest budget, she got to thinking – and cooking – and creating. The kids never wondered what was for dinner, they just knew whatever it was, it would taste great.
Mom heads for the Fancy Food Show
Now Meet Sally
Patsy's youngest daughter. A food lover, dog lover, and outdoor enthusiast. Sally has kids of the four-legged variety. She trains her red dogs (Golden retrievers) and black, brown, and yellow dogs (Labrador retrievers) for field trials and often takes them hunting with friends. Not to forget her rescue dog, Suzi. And she loves to fly fish when time permits.
But what to do with the game? Sally and Mom combined fun with experimentation, working with gourmet cuts of venison, elk, pheasant, perch, wild turkey and Chukkar, as well as a world of artisan seasonings. Before you knew it, they had holiday gifts for friends and family that met with rave reviews. That was the inspiration behind Mom's Gourmet.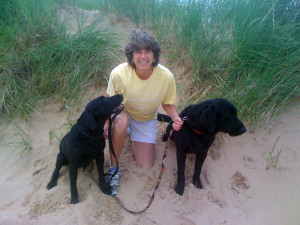 Sally with her NFTCH Rylee (R) & Vinny QAA (L)
First Order of Business? Spice Rubs with Flavor, Not Fillers.
When Mom and Sally developed their seasoning and spice blends, they wanted more "character" than what was on the shelf. They also didn't like the sodium and sugar content that most blends contained. So, they got together in the kitchen and creativity struck. The louder the conversation, the more intense the collaboration until a whole new line of seasonings appeared!
So grab some food and shake on a little of our goodness. Then grill, broil, stir, sauté, shake, or bake. Whether you bought it or caught it, our seasonings will bring out the flavor of your food. Offering you a whole lot of healthy —  for not a whole lot of wealthy!
Check Out Our Recipes
Many of them were inspired by Stephen Pyles (an incredible cook with game); Emeril (Mom loves Emeril); Grady Spears (Cowboy turned Chef) Paula Dean, Mark Miller (Mr. Southwest with sizzle); Bobby Flay (Mom loves Bobby, too), and our hometown Iron Chef, Michael Symon.  Click here to view our spice and seasoning recipes >>
Send us your recipes using Mom's seasonings and we'll put them on the site for others to enjoy! Whether you're solo, married, have a significant other, or a family of 10 like Patsy's sister Sally, we encourage you to cook, grill, eat, share, and create great meals.
Enjoy!
Mom and Sally