About Mom's Gourmet, a Family Owned and Operated Seasoning and Spice Company
Meet Mom
Behind the success of Mom's Gourmet was creative food aficionado Patsy Flattery. Patsy, a.k.a. "Mom," had what every great gourmet cook has … culinary inventiveness mixed with a dash of "I can do it better."
While raising her four children on a modest budget, Mom was always cooking and creating wonderful new dishes. Her kids never worried about what they were having for dinner. They always knew whatever it was, it would taste great!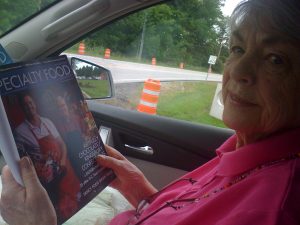 Mom heads for the Fancy Food Show
Now Meet Sally
As Patsy's youngest daughter, Sally naturally enjoys cooking and experimenting with new recipes. An outdoor enthusiast, Sally owns and trains her "Black," and "Yellow Dogs" (Labrador Retrievers) and named her "Red Dog" and "Brown Dog" after her friends Golden Retrievers and Chocolate Labs. She has rescued numerous "Rowdy Kitty's" over the years and was an avid equestrian for many years. Whenever she can get out on the lake, she loves fishing too. So, it's no wonder that her love for all of these hobbies inspired the naming and design of Mom's Gourmet's products and packaging.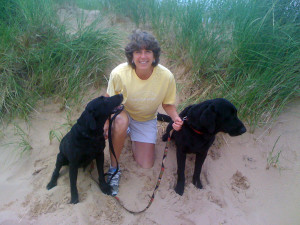 Sally with her NFTCH Rylee (R) & Vinny QAA (L)
Mother/Daughter Duo Shakes up the Spice Industry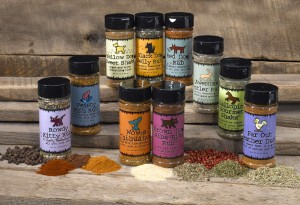 Incredible friends and business partners, the mother/daughter duo first began experimenting and grinding their own handcrafted seasonings and spice blends one holiday season to give them as gifts to friends and family. Their curiosity in the kitchen lead to more and more requests, and the two set their sights on creating spice blends that had more character than what was available on store shelves. They didn't like the sodium and sugar content that most blends contained, and knew there was a niche not being fully met for people who wanted to enjoy easy, flavorful meals while trying to live a healthy lifestyle.
Through intense collaboration, a whole line of seasonings was created that offer delicious taste and natural ingredients. If you haven't tried our spice and seasoning blends, we encourage you to shake on our goodness. Then grill, broil, stir, sauté or bake, and enjoy!
Check Out Our Recipes
Many of our recipes were inspired by Stephen Pyles (an incredible cook with game); Emeril (Mom loved Emeril); Grady Spears (Cowboy turned chef); Paula Deen, Mark Miller (Mr. Southwest with sizzle); Bobby Flay (another of Mom's favorites), and our hometown Iron Chef, Michael Symon.
Share Your Own Recipes
Send us your recipes using Mom's Gourmet seasonings and we'll feature them on our site for others to enjoy. We encourage you to get creative and hope you enjoy cooking with our products as much as we do!
Enjoy!
Your Cooking Friends at Mom's Gourmet