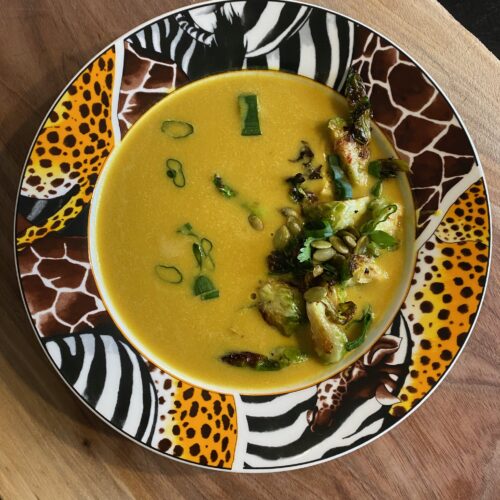 Chickpea Soup with Roasted Brussels Sprouts - a vegan delight
This is a recipe I borrowed from Hetty McKinnon. Fabulous using our Golden MoJo. We devoured it.
Ingredients
2

cans

Chickpeas - rinsed and drained

1

large

Sweet onion, chopped

3

cloves

Garlic

1-1/2

teaspoons

Golden MoJo seasoning

1

sprig

Thyme

4

cups

Vegetable stock - we used Better than Boullion

1

can

Coconut Milk - unsweetened

10

Brussels sprouts - cut into small wedges

1/4

cup

chopped scallions and cilantro

2

tbsp

toasted pumpkin seeds
Instructions
Add a drizzle of olive oil to a large pot over medium heat. Add the onion, garlic, Golden MoJo, thyme, and a pinch of salt and cook for 3–4 minutes, until the onion is soft. Add the chickpeas, along with the vegetable stock, and bring to a boil. Reduce the heat, cover, and simmer for 30 to 45 minutes. Discard the thyme sprig and stir in the coconut milk.

Preheat oven to 375 while the soup is simmering, place the Brussels sprouts in an oven-proof dish and drizzle with olive oil. Season with salt and pepper (we season them with our Rowdy Kitty Rub). Stir a couple of times while roasting for about 20 minutes or until they are crispy and turning brown.

Using an immersion blender, puree the soup until smooth. If it's too thick, add a little water.

Ladle the soup into bowls and top with Brussels sprouts, scallions, cilantro, and toasted pumpkin seeds.