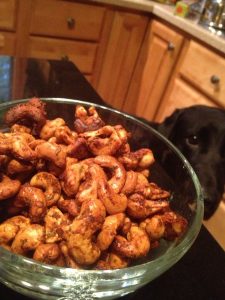 These make a great snack. Whether you are tailgating, watching the game at home, entertaining, or just want to nosh on them for yourself, Little Nippers are a favorite.
I love them so much I make them monthly. Another great snack using Wow-A Chihuahua is to buy sweet and salty kettle corn and shake on some Wow-A Chihuahua to make them a little spicy.
16 oz. Raw Cashews
1 Egg white
1 Tablespoon Wow-A Chihuahua
1/2 cup brown sugar
Sea salt to your liking
Preheat oven to 350.
Soak cashews for about 10 minutes and then drain. While cashews are soaking wisk together egg white, sugar and spice. Fold in drained cashews and let sit for about 5 minutes.
Spray non-stick oil onto your cookie sheet or roasting pan. I use parchment so I don't have the clean-up. Place nut mixture on a cookie sheet or shallow roasting pan in a single layer. Pop into the oven on middle rack and roast for 20 minutes. Stir after 15 minutes so nuts roast uniformly. If nuts are not golden brown after 20 minutes continue for another 5 minutes.
Let cool for 5 minutes, no longer and break apart with spatula. If nuts are still a little gooey after they cool completely just put them back on a cookie sheet and put them in a 325 oven for 10 to 15 minutes.