– Rich, Springboro, PA.
I finally learned how to grill corn on the cob in its husk from my dog training friend Rich Deeds.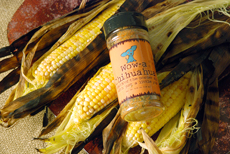 Grilled Corn on the Cob
Instructions
Buy as many ear of sweet corn as you need. Make sure you buy one extra for each person as you'll want to make a meal out of this!

Peel husk back enough to remove the silk (shiny strands at the top of the cob).

Place the husk back and soak the corn in a bucket or sink full of water.

Let soak for at least 3 hours.

Fire up a grill and grill corn husks on over medium to high heat, turning until the husks are charred and black.

Meanwhile melt butter in a pan and add Wow-a Chihuahua™ to your taste. We usually use about 1 heaping teaspoon to a stick of butter.

Peel husks back or off and brush the hot roasted corn with butter. Oh Yeah. Ummmmmmmmmmmmm.