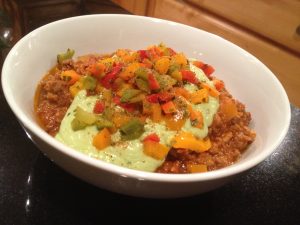 This is the best.
Chili
2 pounds ground venison, chicken or beef
2 tablespoons EVOO
2 to 3 tablespoons chipotle chili in adobo sauce
2 tablespoons Wow-A Chihuahua
1 large onion chopped
3 to 4 cloves fresh crushed garlic
3 tablespoons tomato paste
4 cups chicken stock
1 butternut squash peeled and cut into 1/2″ cubes
Heat oil in large stock pot. Add venison or other meat, break-up with spoon, chipotle chili and sauce, Wow-A chihuahua. Stir up and then add onion and garlic. Cook about 5 minutes and then add chicken stock, tomato paste and butternut squash. While this is simmering make your salsa and puree.
Salsa
2 tablespoons EVOO
1 yellow bell pepper – chopped
1 red bell pepper – chopped
1 green bell pepper – chopped
1 jalepeno pepper – chopped
1 medium red onion – chopped
1 teaspoon dried cilantro or fresh chopped
Juice of one lime
Heat oil in skillet, add peppers and onion and cook until tender. Add lime juice.
Avocado puree
1 avocado pitted
1 cup sour cream
1/4 finely chopped chives
Juice of 1/2 lemon
Place all ingredients in a blender and puree until mixed and smooth.
Ladle chili into bowls and then spoon avocado puree over the chili and then top with the salsa. Serve with Tortilla chips and Kohunlich cornbread.
Tortilla chips