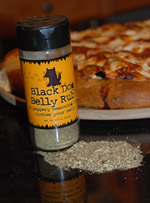 – Kim and John, Chagrin Falls, Ohio
Who'd a thunk it? Here's a new twist to pizza. When you get down to the crust you'll eat it!
Ingredients
1 cup warm water
1 pkg (1 tbsp.) dry yeast
1½ cup all-purpose flour
1 cup whole wheat flour
2 tbsp. olive oil
1 tsp. salt
3 tsp. Black Dog Belly Rub™ (Rowdy Kitty™ also works)
Instructions
Combine water, yeast and 1 cup of flour and mix well.
Add the whole wheat flour, oil, salt and rub, and mix until incorporated.
Knead in the remaining flour (and any additional, if needed). Let rise in an oiled bowl for 1 hour.
After 1 hour, punch dough down and let rest for 15 minutes.
Shape dough on a pizza stone and top with your favorite toppings. (John likes a Greek pizza with feta cheese, provolone cheese, artichoke hearts, pepper rings, onions, and mushrooms).
Bake in a 450° oven for about 20 minutes or until crust edges start to brown. Enjoy!
https://momsgourmet.net/black-dog-pizza-dough/