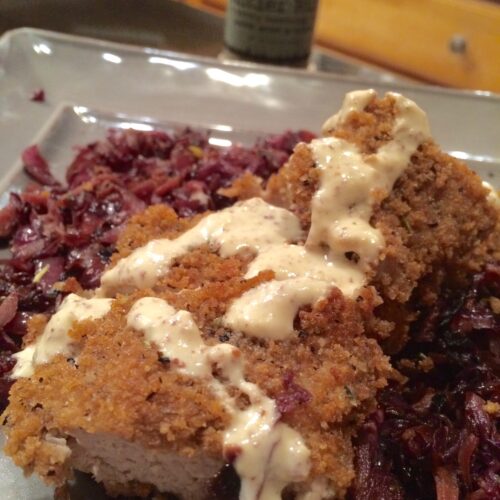 Savory Pork Medallions w/Mustard Cream Sauce and Braised Red Cabbage
Ingredients
1

pound

Pork Tenderloin

1/3

cup

all purpose flour

1

cup

unseasoned bread crumbs

1

tbsp

Awesome Antler Rub

2

eggs blended

4

tbsp

butter

1

cup

whipping cream

1/4

cup

dijon mustard
Braised Red Cabbage
1

head

red cabbage sliced thinly

4

tbsp

brown sugar

4

tbsp

butter

1

tsp

Yellow Dog Sweet shake

1/2

cup

dried tart cherries, soak in warm water to hydrate then chop

1/2

cup

finely chopped sweet onion
Instructions
Pork Medallions w/Mustard Cream Sauce
Cut pork tenderloin crosswise into 1/2-inch-thick pieces. Pound between sheets of waxed paper to a thickness of 1/4 inch. Combine flour, 1/2 tbsp Awesome Antler Rub in a shallow dish. Mix bread crumbs with the other 1/2 tbsp of Awesome Antler Rub in another shallow dish. Melt 2 tablespoons butter in heavy large skillet over medium-high heat. Dredge pork in seasoned flour, shaking off excess, then dip in egg mixture, and then seasoned bread crumbs. Add 1/3 of the pork medallions to skillet and sauté until brown and cooked through, about 2 minutes per side. Transfer to a platter and keep warm. Repeat with remaining pork in 1 or 2 more batches, adding 2 tablespoons of butter to skillet for each batch. Transfer to a baking sheet lined with a paper towel and keep warm in a 200 oven.

In a small saucepan whisk cream and dijon mustard until it thickens a little. Drizzle over pork when ready to serve.
Braised Red Cabbage
Melt butter in a skillet and saute onion for about 2 minutes then add cabbage. Cover and cook on low, stirring frequently until cabbage wilts and cooks throughly. Add dried cherries, Yellow Dog Sweet Shake, and stir until everything is very soft. Serve on the side with pork medallions.