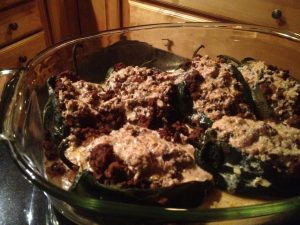 This recipe is sooooooooo good; I made it twice in one week!
Ingredients
5 Poblano chili peppers
1 pound ground turkey
1 tablespoon EVOO
2 garlic cloves
1 finely chopped onion
2 tablespoons Brown Dog Riba-Riba Rub
1 teaspoon ground cumin
2 tablespoons chicken broth
2 tablespoons ketchup or tomato paste
1 palmful raisins
2 cups half and half
grated orange peel
1 cup toasted pecans minced
Instructions
Roast poblanos, remove skins, cut in half and remove seeds.
In skillet place EVOO, add ground turkey, onion, garlic, and cook for 5 minutes. Add Brown Dog, cumin, chicken broth, ketchup, or tomato paste.
Cook until blended. Add raisins and simmer for 20 minutes.
While cooking, put half and half in small saucepan with toasted pecans and orange zest and reduce.
Put turkey mixture into poblanos and spoon reduced sauce over top.
Enjoy!
https://momsgourmet.net/brown-dog-chili-rellenos/