– Steve, Newbury, Ohio
Now this is about as easy as boiling water. Check out Steve's recipe. We tested it on venison. Oh my. Light, delicious and makes great sandwiches the next day.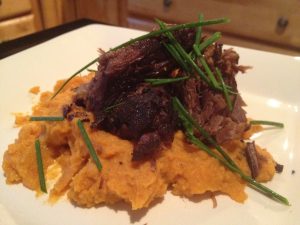 Brown Dog Butt Roast
Ingredients
1

venison or pork butt roast

Olive oil

Brown Dog Riba-Riba Rub™
Instructions
Rub olive oil and then Brown Dog on the roast.

Let the roast get to room temp.

Preheat oven to 400°.

Pop roast in at 400° for 10 minutes.

Reduce temperature to 350° and roast for another 20 to 25 minutes for a tender medium rare.

Let roast stand for 10 minutes and slice thin.