If you can get PEI (Prince Edward Island) mussels from the Bay of Fundy you're in for a treat. If you can't, just get a bag or two at the market.
These were too easy to be as delicious as they tasted. Wish we had bought two bags of mussels instead one one.
1 to 2 bags of Mussels – scrub off any barnacles or other stuff in cold water and remove beards (the beards are the hairy things that stick out of the side)
2 cups of Merlot wine
1 tablespoon Awesome Antler Rub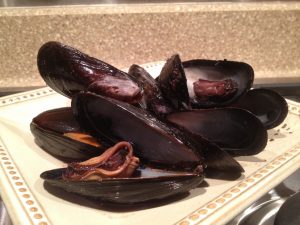 Note: Sometimes you'll loose a couple mussels. You can tell if they are dead by banging them against the sink. If the open ones do not close, toss them.
Pour wine and Antler Rub into a steam pot. Bring to a boil. Drop-in Mussels and let them steam for about 5 to 8 minutes. When the open up they are ready! Discard any unopened mussels.
Serve with melted butter and a loaf of crusty French bread. You can mix a little Antler Rub in the butter and spread on the French bread.