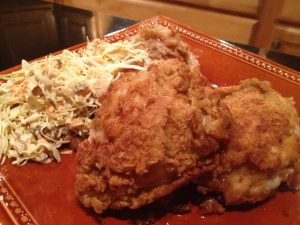 I love the thigh meat, tender, sweet and juicy. You can cut up a whole fryer as well. The recipe is fast and easy. And let's face it, chicken thighs are a bargain. Make the slaw ahead and chill.
6 to 8 chicken thighs
1 cup plain yogurt
Zest of one lime
8 lime wedges
1 Tablespoon Far Out Feather Dust
2 cups flour – unbleached all-purpose
1/2 teaspoon – Sea Salt
Vegetable, peanut, or safflower oil for frying.
Mix half of the Feather Dust with the yogurt in a small bowl. Season chicken with salt and pepper and then coat the chicken pieces in the yogurt mixture. Put the chicken pieces in the refridgerator for up to 24 hours.
Place flour and remaining Far Out Feather Dust in a paper bag and add the salt. Shake it up. Place chicken pieces in the bag and shake to coat.
In large pot, 5″ deep add the oil to 2-1/2 to 3″. Heat oil over medium to medium-high. Fry the chicken for 12 minutes turning once until golden brown. Cool on a rack. Sprinkle with salt if desired.
Serve with lime wedges and spicy slaw.
Spicy Slaw
1 bag of shredded cabbage or coleslaw mixture
1/2 cup mayo
1 teaspoon Soy Sauce
1/2 cup raisins
1/2 teaspoon Far Out Feather Dust
Mix mayo, soy sauce, and Feather dust in a medium bowl, add slaw and rasins. Chill and love.