These are well worth the wait for the water to boil for the pasta!
1/2 box large pasta shells
1 to 2 tablespoons EVOO
1 box chopped spinach – thawed and wrung out in a clean kitchen towel
1 – 1 lb. container of ricotta cheese – whole milk
1 sweet onion – chopped
1 large clove garlic – minced
1 big jar of Pasta sauce – I like tomato, garlic basil – or use your own
2 eggs
1/2 cup grated Parmesean cheese
1 bag of shredded mozzarella
1 teaspoon or a little more of Black Dog Belly Rub or Gallopin' Gourmet Shake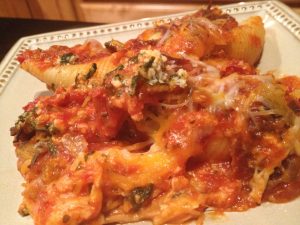 Preheat oven to 350.
1. Heat water in large pot and cook Past according to directions.
2. In a large frying pan, heat EVOO and cook onions for 3 minutes, then add spinach and cooked until warm. Add garlic and if dry add a little more EVOO. Set aside
3. While pasta is cooking warm up the sauce.
4. In a bowl mix ricotta, eggs, Parmesean cheese and Gallopin' Gourmet Shake or Black Dog Belly Rub. Fold in spinach/ricotta mixture and blend well.
In a 9 x 12 baking dish, pour a little of the tomato sauce on the bottom.
Stuff the ricotta cheese mixture into the shells when they have been drained then add the stuffed shells to the baking dish. Top with the remaining tomato sauce and then shredded mozzarella. Bake at 350 for 45 minutes or until the cheese is melted and getting a little browned.