This evolved from a Koepke family recipe. I kept playing with it and now it is an all-time FAVORITE.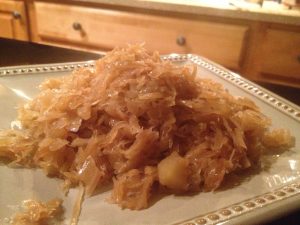 1 Bag Sauerkraut – Snow brand is what I use
1 Granny smith apple – peeled, cored and diced
1 sweet onion chopped
1/4 cup brown sugar
2 tablespoons cider vinegar
5 whole cloves
2 tablespoons butter
Melt butter in large frying type of a pan. Add sauerkraut and onions, stir until blended and when they start to turn translucent, add all the other ingredients and blend well. Cook over medium low heat and continue to stir every once in a while be careful not to burn. This will take about 30 to 40 minutes but one the mixture turns a carmel color and dark, very dark like the picture it is ready. you can cover it up if liquid starts to evaporate. you want this moist. If the kraut gets too dry you can add a little more butter.