-Sally, Newbury, Ohio
This is dedicated to my Golden Pete. Pete was the most beautiful Golden retriever I ever owned. In spirit and looks.Their mother, Bridget is still living at the age of 16!  This recipe is so easy I will add it to my weekly menu. all you need is time. Do it on a weekend or try it in a crock pot!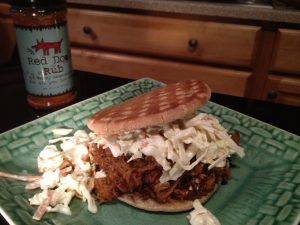 Red Dog Pulled Pork
Ingredients
2 to 3

pound

Pork Shoulder Roast - or larger for leftovers and a crowd

2 to 3

tablespoons

Red Dog Rub - or 1 tablespoon per pound

1

tablespoon

olive oil

1/4

cup

water - increas incrementally if you go to a larger roast

Your favorite BBQ sauce - we used Jack Daniels Honey
Instructions
Preheat oven to 300

Rinse pork and pat dry.

Brush with olive oil and then rub Red Dog all over the roast.

Place in a dutch oven, I used my red LeCruset, place roast in oven UNCOVERED for 1 hour.

Pour in 1/4 cup water and COVER and cook for 90 minutes a pound.

Remove from oven and let cool for 15 minutes.

Shred pork using two forks.

Add the sauce to your liking and you have pulled pork that will make your taste buds whimper. I used the new thin , multigrain buns that were toasted and had butter spread on the bun with a shake of garlic powder.

Serve with coleslaw or top the sandwich with coleslaw.