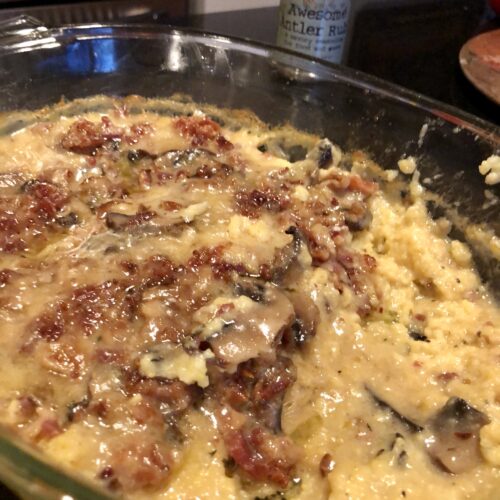 Sweet and Savory Grits
Whether you use grits or polenta, this dish is a fabulous side for breakfast or dinner. I adapted this from a Stephen Pyles recipe. He is bar-none, my favorite chef.
Ingredients
1-3/4

cups

chicken stock

3/4

cup

milk

3/4

cup

stone-ground grits or polenta

3

tbsp

butter

1/4

cup

grated parmesan cheese

1

tsp

Awesome Antler Rub

10

ounces

Wild mushrooms - Baby Bella's sliced

1

clove

garlic

2

tbsp

white wine

1/2

tsp

fresh thyme

6

ounces

sliced honey baked ham cut in slices or cooked bacon

1

tbsp

butter, melted

1/4

cup

Maple Syrup

1/4

tsp

red chili flakes

1

tbsp

olive oil
Instructions
Preheat oven to 325. Butter a 9" x 12" baking dish. Bring stock and milk to a boil in a medium saucepan. slowly pour in the grits or polenta stirring constantly. Cover the and simmer, stirring occasionally, for 18 to 20 minutes or until the stock and milk are absorbed. If liquid absorbs too quickly, add more milk or stock. Stir in Antler Rub, butter and parmesan cheese. Pour into buttered dish.

Heat a medium saute pan and pour in olive oil. Add mushrooms and garlic, sauteing until mushrooms are wilted. Pour in white wine and thyme and simmer until the liquid is evaporated.

Spread mushrooms over the grits. Layer the ham or bacon evenly over the mushrooms. Combine melted butter, maple syrup, and chili flakes and stir well. Pour over the ham or bacon. Bake in oven for 20 to 25 minutes or until the ham is crispy.