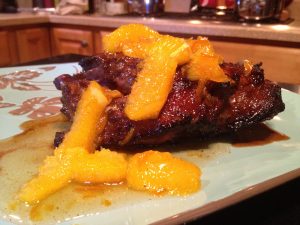 This is a wonderful main dish or gourmet appetizer. It's almost too easy.
Serves 4 – add more duck if your group is larger
Groovy Duck Breast with Cara Cara Oranges
Ingredients
2

Duck breasts de-boned - wild or domestic

3

tablespoons

of Far Out Feather Dust

Olive oil

3

Cara Cara oranges - cut into sections without the membrane

4

Athens Phyllo cups - a great time saver

4

cups

4 cups of mixed baby greens (If you are serving this as an entreé)

optional
Instructions
Preheat oven to 400.

Rinse the duck breasts in cold water and pat dry.

Scored the skin in a criss-cross pattern but be careful not too cut into the meat.

Rub the duck breasts with olive oil and then rub the Far Out Feather Dust on the breast and make sure to rub it on the skin and under the skin. This will get the vibrant flavors of the seasoning into the meat.

Put the duck on a roasting pan that has been sprayed with canola oil. If the duck looks fatty, you can also place it on a rack and add a little water to the roasting pan to catch the drippings.

Roast for 10 minutes at 400 degrees.

Remove the roasting pan and drain off any fat/water that has rendered.

Reduce heat to 350 and roast for another 20 to 40 minutes until the duck is cooked.

Remove from oven and cool until you can handle it.

Remove skin and cut into pieces that will fit in the Phyllo cup along with a slice of orange.

If you are serving as an entree' serve the half a duck breast over 1/2 cup of baby greens.

Drizzle a little rice wine vinegar and extra virgin olive oil and serve. So good!
Notes
Cook's note: Brine the duck if it is wild. I use 1 tablespoon kosher salt and add enough water to cover the breasts. For duck I like to brine them overnight if possible. You don't need to brine domestic duck.