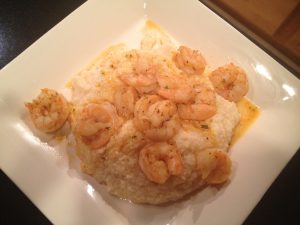 This recipe is really easy and REALLY good. Serve with a side salad.
Shrimp
2 pounds fresh caught wild shrimp – peeled, deveined and rinsed in cold water
Feisty Fish Rub – to your liking
1 tablespoon butter – unsalted
Melt butter in a frying pan and add shrimp flat side down. Shake well with Feisty Fish and saute' until lightly pink on each side. The minute the shrimp becomes pink and no longer translucent it's done. Do not overcook or shrimp will be tough.
Grits
Cook the portion of grits you'd like and follow directions on the box. I use quick-cooking when I'm in a rush and slow cooking when I'm not.
1/2 to 2 cups shredded extra sharp cheddar cheese depending on the size batch. I like mine cheesy so I always add more.
When grits are close to being done, stir in the shredded cheese.
Serve shrimp over the grits.