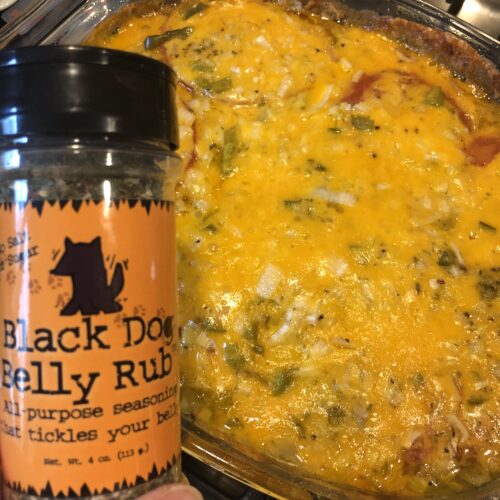 Eggplant Patsy
This is a delicious casserole featuring eggplant, peppers, onion, tomato, cheese and seasoning. You will love even if you don't like eggplant.
Ingredients
1

Eggplant

1

Green pepper

1

Onion

2

Large ripe tomatoes

1

tbsp

Black Dog Belly Rub

1/2

tbsp

Granulated garlic

2

tbsp

Sugar

2

blocks

Sharp cheddar cheese
Instructions
Preheat oven to 375.

Rinse off all produce.

Slice eggplant into 1/4" rounds. Chop green pepper and onion (sometimes we use the hot yellow peppers with the green pepper)

Slice tomato into 1/4" slices and place on paper towel to absorb some of the liquid. Slice cheddar cheese in 1/4" slices.

Take a deep casserole and coat with cooking spray.

Layer the veggies, 1/2 of the eggplant first, then 1/2 of the tomatoes, then 1/2 green pepper and onion. Shake 1/2 of the seasonings over the casserole. Add 1/2 of the cheese. Repeat the layers. Cover with foil or a lid if it doesn't touch the veggies. Note if the veggies are touching lid or foil, bake for 15 to 20 minutes uncovered until they shrink and settle and then add cover or foil.

Bake at 375 for 45 minutes to an hour. Remove cover or foil and reduce the temperature to 325 and bake for another 30 minutes. Remove from the oven and let sit for 10 to 15 minutes before serving. NOTE: if there is a lot of liquid let it cook a little longer.