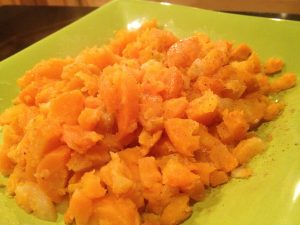 Here's an easy recipe for carrots. A great side dish and so good for you. I buy organic and leave on the skin.
1 bag carrots – Scrubbed in cold water. Peel if you don't have organic. Slice into chunks.
1 tablespoon Yellow Dog Sweet Shake
3 tablespoons butter or Smart Balance
Cook carrots in water until soft. Mash up with a potato masher and add butter or Smart Blend. Stir in Yellow Dog Sweet Shake. You're going to love these!