When I made this, Steve walked into the kitchen and wow, does that smell delicious. And, it certainly was! If you make extra, freeze it for another meal.
1 Tbsp EVOO
1-1/2 Country-style pork ribs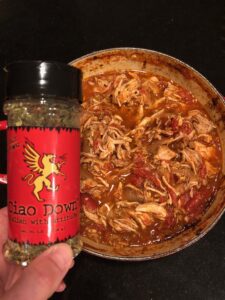 2 Cups vertically sliced white onion
1 Fennel bulb cored and vertically sliced thin
1 Teaspoon Ciao Down
8 Garlic cloves crushed
1 28 oz. can whole peeled tomatoes like San Marzano – do not drain
1/2 tsp. crushed red pepper
1/2 cup finely grated pecorino Romano cheese
1 pound whole-wheat pappardelle or fettuccine
Salt
Directions: Preheat oven to 325. Shake a little salt on both sides of the pork ribs. In a dutch oven, heat oil and brown pork ribs all sides. Remove from pan and add onion, garlic and fennel. Stir occasionally for about 5 minutes Add tomatoes and the juices and break up tomatoes using your hands or a spoon. Add seasonings, Stir and then add the pork ribs by nestling them into the sauce. Cover and bake in the 325 oven for 1-1/2 hours.
Cook pasta according to directions so you time it with the pork. Drain and reserve 1 cup of the liquid if you need it. When the pork is done, shred it with two forks and add the pasta tossing gently to coat. Add liquid if needed or serve with grated pecorino. If you use polenta, be sure to time it with the pork so it doesn't get too thick